Before using your Kobo eReader for the first time, you should charge it for at least one hour.
A fully charged Kobo eReader battery can last up to two months depending on how frequently you use your eReader. Charge your Kobo eReader with the supplied USB cable if possible.
If you need to replace your USB cable, you can get a new one at any location where USB cables are sold. Ensure that the USB cable is capable of transferring data, as some USB cables are only capable of charging.
Note: If you notice that your Kobo eReader is performing slower than usual while your eReader is plugged in using a USB cable, it may be caused by a faulty USB charging cable. Try using use a different USB cable to see if your eReader's performance improves. It's recommended to use genuine Kobo USB cables and chargers when possible.
Follow these steps to charge your eReader.
Turn on your computer.

Connect your USB cable to your eReader and your computer.
Note: Depending on your eReader, the USB port can be located on the side, or on the bottom of your eReader.



You can continue reading while your eReader charges.
The battery's charge status appears at the top of the screen.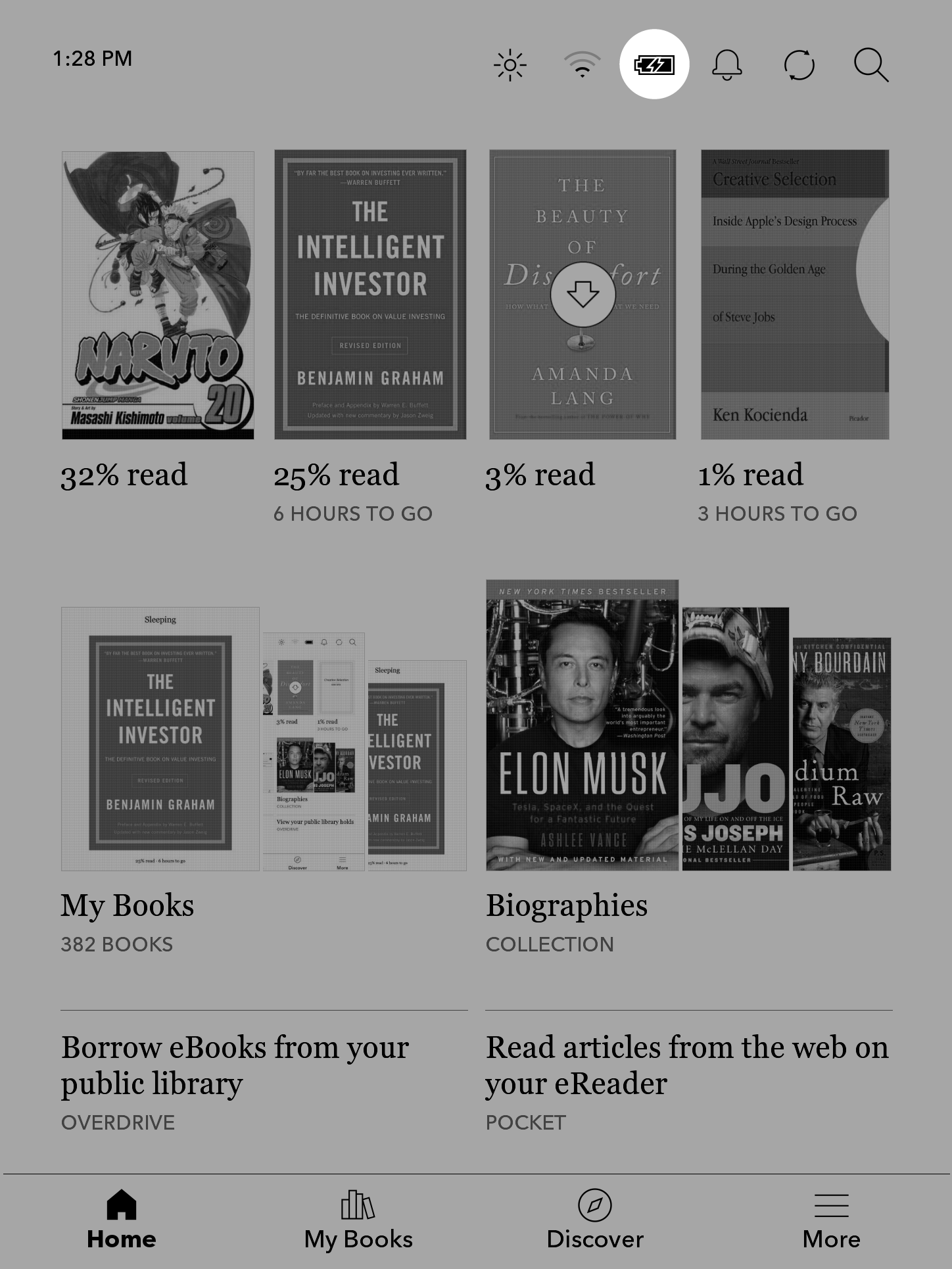 Battery icons
Low power
Charging
Partially charged
Fully charged

Tip: If you're having issues charging your eReader, try using a different USB cable and power adapter. For more troubleshooting steps, follow the steps in this article:
Notes:
You can also use a USB power adapter to charge your eReader using an electrical outlet.
If you have a Kobo eReader with a USB-C port, you can purchase the Kobo 5V Power adapter to charge your eReader.
If you're travelling to a country with different electrical systems, be sure you have the proper converter before you charge your Kobo eReader using a power outlet.
Extend your eReader's battery life
Here are a few things you can do to make your eReader's battery last longer: