Phishing is a cybercrime that involves tricking people into revealing their sensitive information, such as passwords or credit card details, by posing as a trustworthy entity.
---
How to identify phishing emails
It's important to be aware of the key indicators while looking at phishing emails versus legitimate emails:
Emails often appear to be from a trusted source, such as a bank or online retailer, but they may contain links to fake websites or request you to provide sensitive information.
Check the sender's email address. Phishing emails often use fake email addresses that look like they are from a legitimate source but are slightly different:

Look for spelling and grammar mistakes.
The text on links can look legitimate but point to a different location. Hover over the link or view source to see where it's actually pointing to.
What to do when you receive a suspicious email
Do not click on links or download attachments.

Delete the email and report as spam or phishing if your email provider has this option.
---
Examples of phishing emails: Fake invoices
Receiving an invoice for books that you haven't purchased
These appear to be from Rakuten Kobo. Both Kobo & non-Kobo customers receive these fake invoices.
Here are some easy steps to identify fake invoices:
Hover your mouse cursor over the book title and make sure it goes to a Kobo product page. The link should take you to a page starting with https://www.kobo.com.
Verify that the title in the receipt is something you purchased.



Malicious links in the emails
In the example below, the receipt number re-directs you to a non-legitimate website if you click the link. Do not click this link. Opening the link will download malware to your computer.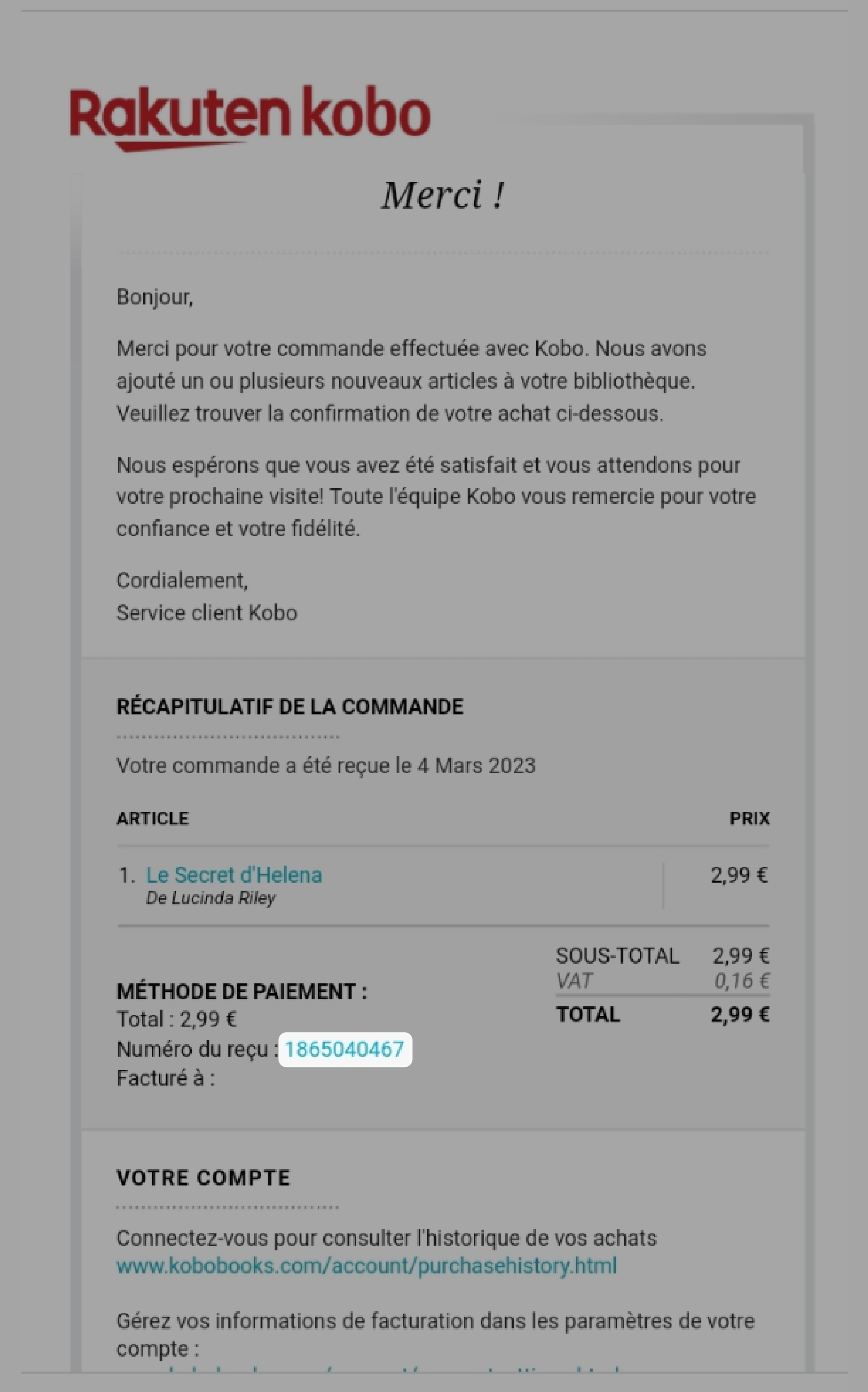 Real invoice indicators
You'll see your name in the first sentence of the email.
The name you see here will be the same name as you used to create your Kobo profile.



When you hover your mouse cursor over the title of the book, you'll see a link that goes to the Kobo Store. The link begins with https://www.kobo.com.



Your receipt number will appear as a black font that is text-only. Text-only means that you shouldn't be able to click on the receipt number. If you can click on the receipt number, it means that the receipt is fake.



---
Learn more